Bounce Houses

Click to Call Today
402-578-4123
Bounce House Rentals Omaha
Welcome to the wild and wonderful bounce house rentals Omaha chooses first from Jumpers 4 You, where fun knows no bounds and smiles are contagious! If you're hoping to add a touch of magic to your next event in Douglas County, look no further—we've got you covered with our thrilling bounce house rentals that will make your celebration a bouncing success! With an exciting and expansive inventory, we have everything you need to make sure your upcoming event is a total success. From vibrant castles that ignite the imagination to thrilling obstacle courses that challenge even the most daring adventurers, we offer the perfect inflatable for your party planning needs in Omaha, Nebraska.
Add excitement and entertainment to events of all varieties! Whether it's a birthday bash, a community event, a corporate gathering, or you just want to entertain the kids over the weekend, we have the bounce house rentals Omaha needs to create countless cherished memories. Why settle for ordinary when you can turn your party into an extraordinary experience with Jumpers 4 You?
Safety is our top priority, so we meticulously maintain and clean our bounce houses after every use, which makes us the top provider of bounce house rentals Omaha parents, teachers, churches, and businesses can trust. With industry-leading safety standards, you can rest assured that your little ones will have a blast in a secure and sanitized environment. Our friendly and professional team goes above and beyond to ensure your party goes off without a hitch. From timely delivery to hassle-free setup, we take care of all the details so you can focus on having an unforgettable time with your guests.
Browse our website now to explore our fantastic selection of bounce houses and reserve your favorite within a matter of minutes using our convenient online system. Get ready to bounce, laugh, and create magical moments that will be talked about for years to come with the #1 bounce house rentals Omaha has to offer!
The Bounce House Rental Omaha Uses to Add Excitement to Events
We've got the bounce house rental Omaha knows is the life of the party at any event you can dream up! From birthday celebrations that light up with laughter to lively community gatherings filled with fun, our inflatable wonders add an extra dose of excitement to every occasion. School carnivals and church festivals become epic playgrounds where kids can bounce, slide, and play to their heart's content. With our Omaha bounce house rental, corporate picnics and team-building events transform into thrilling adventures, fostering camaraderie and team spirit among colleagues.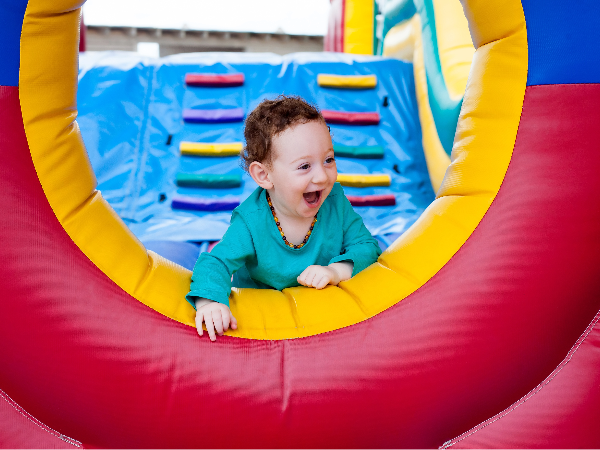 Family reunions and neighborhood block parties become joyous occasions, bringing loved ones together for unforgettable moments of laughter. At fundraisers and charity events, we've got the bounce house rental Omaha uses to not only entertain but also inspire generous hearts to contribute to meaningful causes. Festivals and fairs become vibrant wonderlands, attracting crowds of delighted visitors. Weddings and anniversaries take on a playful twist as guests of all ages jump the night away with the bounce house rental Omaha knows and loves as the centerpiece! Keep the kiddos entertained while the parents know that everyone is safe in our high-quality bouncers that are great for all ages.
No matter the occasion, our bounce houses create an atmosphere of pure delight, whether you're watching from the sidelines or getting in on the jumping action. They become the focal point of celebrations, drawing in guests like magnets. With a wide range of themes and sizes to choose from, our Omaha NE bounce house rental fits perfectly into any event, from intimate gatherings to community-wide celebrations. Whether you're hosting a backyard bash, a school event, a community festivity, or anything in between, count on our bounce houses to elevate the fun factor and make your event an absolute hit!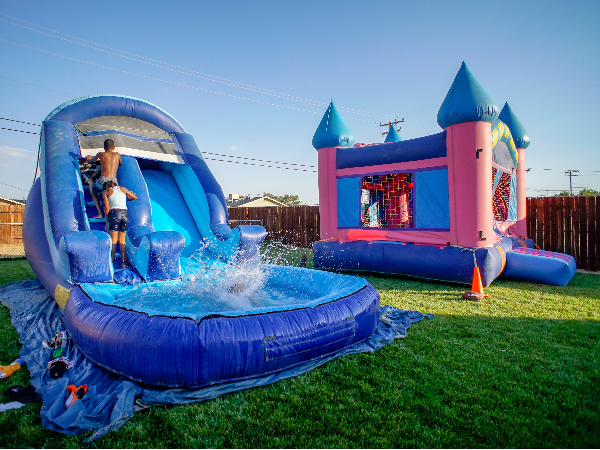 Safe and Cheap Bounce House Rentals Omaha NE Parents Trust and Kids Love
Prepare to be amazed by our impressive selection of cheap bounce house rentals Omaha NE can select from! We take pride in offering an exciting range of inflatable wonders that will leave you spoiled for choice. From enchanting princess castles to thrilling superhero adventures, our diverse themes and styles cater to every child's fantasy while fueling their imaginations. Whether you're hosting a birthday bash, a school event, a community gathering, or any other occasion, we've got the indoor bounce house Omaha knows is sure to be the highlight of the party!
Safety and quality are our top priorities, so all our bounce houses are made with the highest-quality materials and undergo rigorous inspections. Clean, well-maintained, and supplied by industry-leading manufacturers, each inflatable bounce house rental promises hours of fun-filled excitement. Our team is committed to delivering nothing less than excellence, ensuring that your event is enjoyed by all.
With sizes to suit any venue and themes to match every party theme, we've got the bounce house Omaha Nebraska uses to offer something special for everyone. Let the giggles, laughter, and joy soar high as kids bounce their way to happiness in our colorful and captivating bounce houses. Get ready for an unforgettable celebration, and let the bouncing adventure begin!
Customers looking for a simple and elegant gender-neutral bounce house will love our signature Moonwalk. This rainbow-colored bounce house is 15' x 15' and will accommodate hours of fun for a rental price starting at just $140.00 for up to eight hours of rent time, making it the perfect cheap bounce house in Omaha.
Let your little princesses pretend they are queens for the day in our Large Princess Castle Jumper. Kids can let off steam and burn excess energy while having fun in this 15' x 15' bounce house. Prices for renting this amazing inflatable begin at just $150 for up to eight hours of rental time.
Our Spider-Man Bounce House will surely be a hit with the younger heroes in attendance. This 13' x 13' bounce house prominently features everyone's favorite hero and is decorated in his signature red, white, and blue colors. With a starting rental price of only $150.00 for up to eight hours, this is a bounce house rental Omaha NE kids and parents can both enjoy!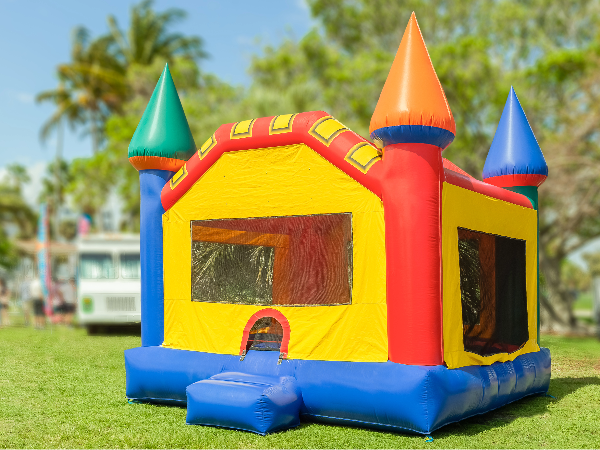 How To Book Our Omaha Bounce House Rentals Online
Renting our Omaha bounce house rentals online is a seamless and hassle-free process with our user-friendly online rental system! When you visit our website, you'll be greeted with an incredible selection of bounce houses and other entertaining inflatables. From thrilling obstacle courses to enchanting castles, our exciting inventory is ready to elevate the fun at your event.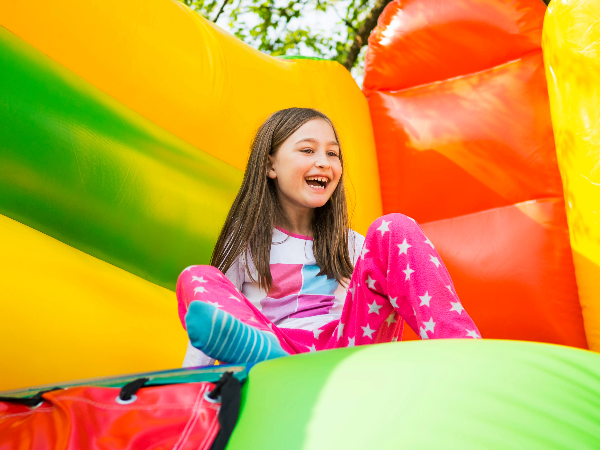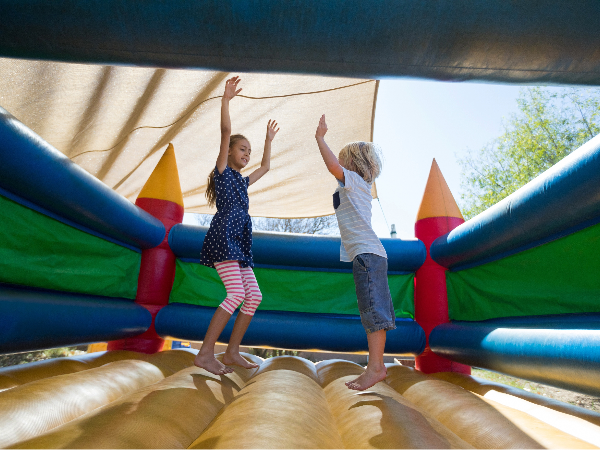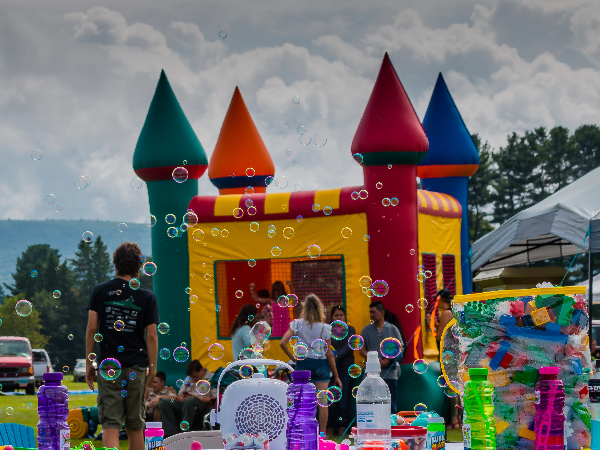 To get started, browse our bounce house category and select the jumper that best suits your event's theme, guest list, and budget. Our online rental system allows you to check the availability and pricing instantly for your delivery area, making it convenient for you to plan your event accordingly in a matter of minutes.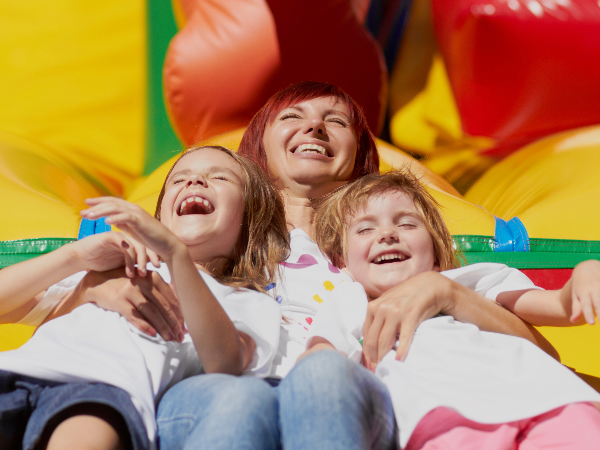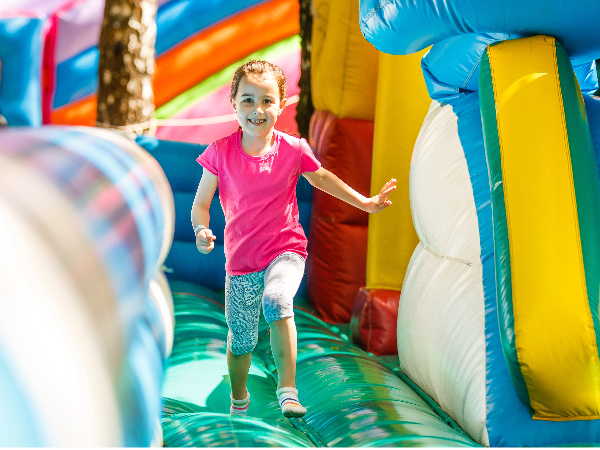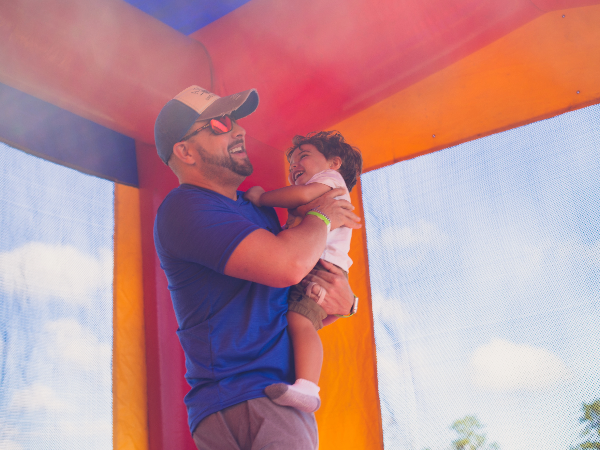 Once you've found the perfect bounce house Omaha rental, add it to your cart and customize it by selecting any additional extras you may need, such as concession stands, tables, interactive games, or the #1 water slide rental Omaha has to offer to complete your event. Next, provide your event details, including the venue address and contact information, to ensure a smooth delivery and setup process.
With secure online payment options, you can confidently check out and secure your Omaha rental bounce house reservation using any major credit card. Once your reservation is confirmed, you'll receive an email with all the essential details and a digital copy of your receipt. One of our team members will be in touch to confirm a drop-off window for the day of your event that works best for you. If you have any questions or would prefer to speak directly with one of our team members to schedule a rental, give us a call at (402) 578-4123 and let's get started!
At Jumpers 4 You, we strive to make the rental process as effortless and easy as possible, so you can focus on creating unforgettable memories with your Omaha bounce house rentals. Embrace the joy of bouncing, and let our team of professionals take care of the rest!
Delivering the Bounce House Omaha and Surrounding Areas Can't Get Enough Of
At Jumpers 4 You, we take pride in providing the seamless bounce house Omaha likes delivered to Omaha, NE, and the surrounding areas in Douglas County. We cover a wide range of zip codes to ensure that everyone can enjoy the thrill of bouncing in our inflatables. Some of the zip codes we serve include 68022, 68102, 68104, 68105, 68106, 68107, 68108, 68110, 68111, 68112, 68114, 68116, 68117, 68118, 68122, 68124, 68127, 68130, 68131, 68132, 68134, 68135, 68137, 68142, 68144, 68147, 68152, 68154, 68157, 68164, and 68178.
To ensure a smooth delivery process, we collaborate with the Omaha Public Schools School District, which allows us to efficiently navigate through the area and deliver the bounce house rental Omaha Nebraska uses for various events, including school functions, fundraisers, and community gatherings.
In addition to serving schools, we also deliver our bounce house rentals to several local parks, including Zorinsky Lake Park, Elmwood Park, and Heartland of America Park. These scenic locations provide the perfect setting for outdoor events and parties.
Moreover, our delivery services cover popular landmarks in the area, such as the Henry Doorly Zoo and Aquarium, the Joslyn Art Museum, and The Old Market. Whether it's a birthday celebration, a family reunion, or a corporate event, our team is committed to bringing the excitement of our bounce house rentals near Omaha NE to these iconic spots.
With our reliable and timely delivery services, you can rest assured that we've got the bounce house Omaha knows will arrive on schedule, allowing you and your guests to indulge in hours of bouncing fun and create cherished memories together. Let our company be your go-to party rental company, and experience the joy and excitement of our top-notch bounce house rentals!
How to Rent a Bounce House in Omaha NE, and Other FAQs
If you're wondering "how to rent a bounce house in Omaha NE" or "how much does it cost to rent a bounce house," you're in the right place! We understand that planning an event can be overwhelming, so we've put together this resource to address your inquiries quickly and efficiently. Whether you're curious about our rental policies, pricing, or delivery options, you'll find all the essential information on the best bounce house rental in Omaha below!
Q.
Are your bounce houses safe for all ages?
A.
We've got the bounce house Omaha NE can trust! Our inflatables are always in pristine condition because we thoroughly inspect them before and after each use. Any time children are using the inflatable, there must be an adult present to monitor each inflatable. If you do not have an adult available to supervise the unit, our company can provide an attendant for your event for a minimal cost.
Q.
How much space will I need to set up a bounce house?
A.
Each Omaha bounce house has individual set-up specifications listed within the product details. Generally, we add 2' on each side and 4-6' to the front and back of the unit to accommodate the blower tube and entrance step. A vertical clearance of 16-24' is needed. Please call our office with any concerns about the required space.
Q.
Are there any cleaning fees?
A.
There will not be any additional charges for cleaning if you return the Omaha NE bounce house in the same pristine condition in which it was delivered for your function. There will be a cleaning fee if the (dry) unit gets wet. We have a strict policy against food, beverages, toys, etc., being used inside the bounce house to prevent any damage or injuries.
Q.
How much does it cost to rent a bounce house in Omaha?
A.
We're confident we offer the best prices for bounce houses in Omaha! Beginning at just $140 for up to eight hours of rental time, our bouncers provide maximum fun at the most cost-effective rates.
5-Star Service When You Rent a Bounce House Omaha NE Can Trust From Jumpers 4 You
We take immense pride in making it easy to rent a bounce house Omaha NE can rely on for top-quality fun and entertainment. Our positive customer reviews reflect the exceptional experiences they've had working with our team. From bounce houses to obstacle courses, our clients have raved about the quality, cleanliness, and safety of our rentals. They appreciate our reliable and punctual delivery, as well as our friendly and attentive customer service. It brings us joy to read the heartfelt feedback and know that we've made a positive impact on our customer's special days. At Jumpers 4 You, your satisfaction is our top priority, and we strive to exceed your expectations with every rental! Look at a selection of our 5-star reviews below and schedule a delivery online today.
Background color: Color Theme 1
What Customers are Saying
"Great experience with renting the castle. My son and his friends had the best day celebrating his birthday. On time delivery and set everything up as directed. Pickup was smooth quick and easy. I will be renting again."
- Sarah R.
"Everything went incredibly smooth. Thankfully the weather remained nice to the event. I rented a single bounce house for my daughter's birthday party. They arrived before the party started, set it up, went over the rules, and were out of there in no time."
- Brandon M.
"Had a great experience with Jumpers 4 You. The owner was super helpful with helping me decide which bounce house would be best for my event and the bounce house was super clean and delivered on time before my party even started. Will definitely be using them again in the future."
- Peggy L.
Previous
Next